I am so pumped for this post! I have another update post in the works, but in the mean time -- I have a feast for the eyes to share with you :)
It all started when I saw
this chair on a design blog
the other day and was blown away:
In the past, I've found that upholstery done with African fabric was a bit...
much.
I don't know, it just seemed a little too wild for my taste... and how do you "match" other pieces with such a crazy piece of furniture?? More and more, I am getting away from the concept of matching in design--though I have to fight the urge! I still lean towards teal and coral, and jewel tones... but I'm working on diversifying ;)
Well, something about that chair just spoke to me. I don't really like the yellow, but I love the contrast between a traditional armchair and the wild fabric. In fact, that fabric reminded me of the
celestial blue fabric
I bought a few months ago, and still haven't done anything with. The wheels started spinning, and then the fun began: oh my goodness, the gems I found searching for African textile furniture online! I am SO inspired to find
something
to upholster with fabulous cloth as a statement piece. Just check out these lovelies....
I am blown away by these chairs... I think they might be my favorite.
Modern chairs and a mix of fabrics that somehow work together.
Imagine these around a kitchen/dining room table
in an
otherwise
understated room?
To die for!
Wow. Antique mud cloth fabric (with some wear and tear) coupled
with the antique chair, also imperfect. I love it! And mud cloth,
from Mali, might be a more feasible option for the color-shy out there.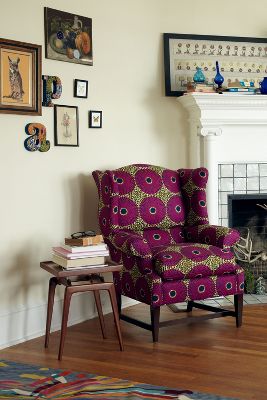 But this one... this one is my favorite.
And look how lovely it
fits right
in with
this simple and classic room?!
Here, a real life upholstered chair from an expat home in Dakar.
She chose to
go more neutral. Not too shabby, eh?!
And last, but not least, this doozy of an armchair!
Now, this one is still a bit wild for my taste,
but check out the mixture of textiles on the chair itself.
I also love wacky fabrics (ie. rando motifs),
and this chair does not disappoint.
I am so full of inspiration! I love the classic earthiness of the mud cloth upholstery as much as I am drawn to the bold wackiness of mixing African wax with traditional furniture. I think, though, that a room can only handle one of these chairs, unless you go with a variety like that first set of four chairs. I don't know, I can't imagine mixing more than one African wax chair in a living room, and although I'm trying not to be so concerned about matching... I do think picking a fabric with a good color pallet will be super important for the balance of the room in question.
Things to ponder, plan, and execute!
P.S. Changed my blog name on a whim. I will explain (still haven't decided if I'm gonna keep it) and make the necessary changes (about moi, links, etc) as soon as I have a free moment!